The Marking Solution Company
In making heat transfer labels for years, we've learned a few things about what we need to do: four things, in fact, which you'll see on the next page. First, we will keep improving our original technology for producing heat transfer labels. Together with that, we will expand our horizons into the field of "function labels." We are committed to meeting our clients' needs, not only by making amazing products but also beyond production. Therefore, we will also put tremendous effort into developing machines related to heat transfer and technical support for clients. We promise to offer comprehensive solutions for your company through our marking technology.
Production of Heat Transfer Labels
Heat transfer labels are useful auxiliary materials which can be used for marking no matter where you are by applying heat and pressure. Making high-quality heat transfer labels requires the kind of advanced technology and know-how that we have achieved and learned over years of developing most materials and production equipment on our own. In the area of adhesives, the most important materials for our labels, we have designed and developed more than 100 varieties to suit all sorts of materials for marking products.
Functional Label R&D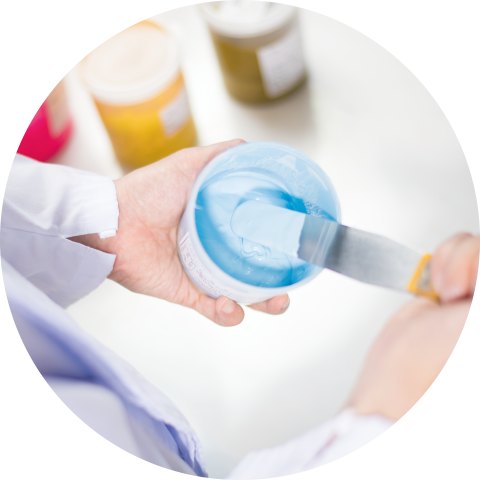 Although heat transfer labels were originally intended for printing letters or patterns as designs, we are now developing a new usage for them as "functional labels": labels that are able to perform a variety of functions thanks to specially processed resin layer. We developed the first of our functional labels, "Excale," in 2016. Added functionality such as low friction or high durability creates new possibilities for sportswear or workwear, opening up an entirely new field for heat transfer labels.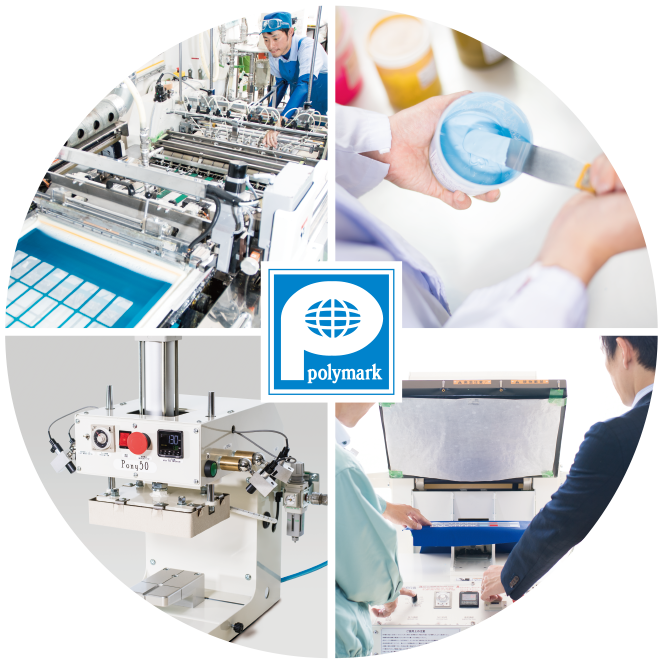 Machine Development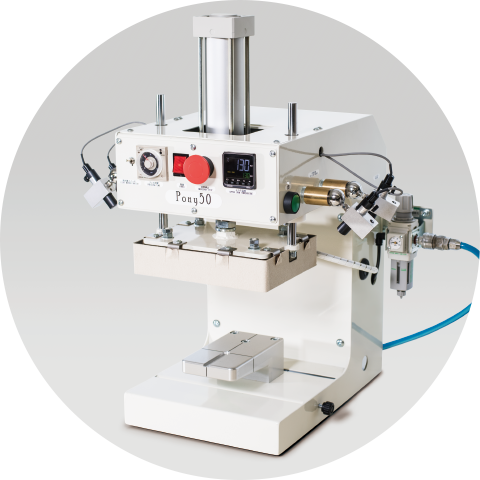 As garment material evolves and becomes more functional, marking becomes increasingly challenging. To respond to advances in material technology, we have developed a number of machines, from in-house production equipment to heat transfer machines used at our clients' factories. One example is a testing machine that can apply tensile force underwater for swimwear labels. The heat transfer machine which developed for the warning label on automobile sunvisors has been used in 90% of all automotive components factories in Japan over the last 20 years.
Technical Support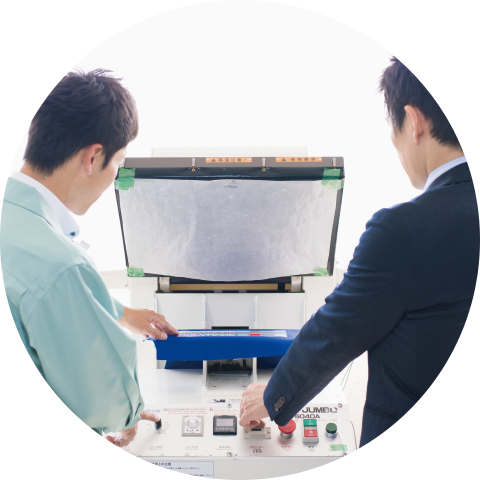 Since heat transfer labels are applied to products by our clients at their own factories, strong technical support is of the utmost importance. When you need help on site, we're there. It's a policy we've kept for a long time to earn our clients' trust. We believe this trust is why clients often consult us during the planning stages of new products. To provide the most attentive support, we've kept one central base of operations in Fukui. By being close to each other, our sales staff, technical staff and other staff can share knowledge and information to respond to clients promptly and with care.
What is Heat Transfer Printing?
Heat transfer printing is a marking method used mainly for garments, in which you print a design to a transparent layer before adhering it on a product, such as a garment, by applying heat and pressure. Designs can be printed to the layer beforehand, and be transferred to a product at your own factory. The method has many merits. For one, the transfer process is finished in one step no matter how many colors are used, and the process can be done at any factory around the world.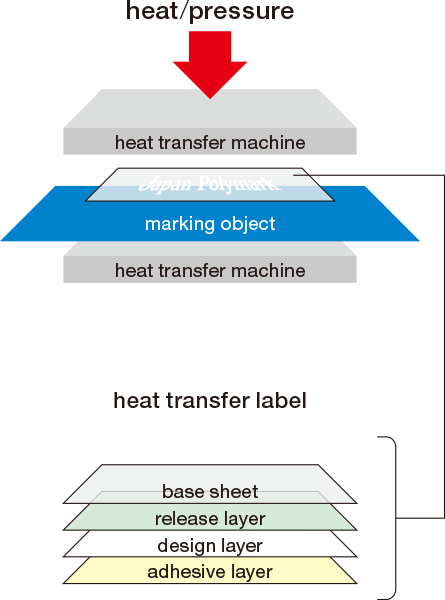 Sublimation Transfer Printing/Cut-out Labels
We also provide inkjet-printed heat transfer labels. As plate making is not necessary for these labels, we can take small lot orders and deliver the labels in a short period of time. We provide the following two types:
Sublimation Transfer Printing: Print sublimation dye to transfer paper by inkjet printer, and then heat transfer it to fabric.
Cut-out Labels: For making labels of numbers, names, and logos according to your needs.